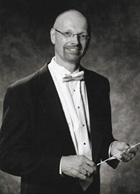 Robert de Frece retired in 2008 as Professor of Music and Music Education in the Faculties of Education and Arts at the University of Alberta. Dr. de Frece directed choirs at Archbishop Jordan High School in Sherwood Park, Alberta for nine years and spent six years as a Music Consultant with Alberta Education. He is Music Director of Greenwood Singers and the University of Alberta Mixed Chorus and founder and music director of the University of Alberta Faculty of Education Handbell Ringers.
Dr. de Frece served for two years on the National Board of Directors of the Association of Canadian Choral Conductors and is a past-president of the Alberta Choral Federation. He served as Alberta's Assistant Provincial Carillonneur from 1971 to 1979 and Provincial Carillonneur from 1979 to 1996.
In 1993, Dr. de Frece was awarded the Faculty of Education's Undergraduate Teaching Award and the University of Alberta's A. C. Rutherford Award for Excellence in Undergraduate Teaching. In 1998, he was awarded the Alberta Choral Federation's Con Spirito Award in recognition of dedication and commitment to choral music. In 2002, he received the University of Alberta Alumni Association's Alumni Honour Award in recognition of his work with the University of Alberta Mixed Chorus and, in 2004, he was named to the Edmonton Cultural Hall of Fame and also received the Alberta Choral Federation's Richard S. Eaton Award of Distinction for exemplary service to choral music in the Province of Alberta. In 2005, he was awarded the Alberta Centennial Medal.
As the author of a number of textbooks, he has presented music education workshops throughout Canada and the United States and in the People's Republic of China, and has established a wide reputation as an adjudicator.